The Festa di Sant'Antonio da Padova is traditionally celebrated in the country church dedicated to the saint, which is located on the outskirts of Austis, in the locality of Basiloccu.
In ancient times, during the period of celebrations in honor of Sant'Antonio da Padova, people stayed in the sanctuary for nine days to pray and celebrate with dances and traditional music, while on June 13, Sant'Antonio's day, a procession characterized by three laps around the sanctuary took place.
Over time, due to the occupations of modern society, the time for celebrations has decreased and they have thus been moved to September to allow the entire population to participate. Today the festival includes religious moments, such as mass in the church of Sant'Antonio da Padova and the procession, and civil celebrations within the town. In the streets of the town you can dance accompanied by traditional Sardinian music until late at night, you can eat good typical food accompanied by wine, while the little ones can play with the games that are installed in the main square.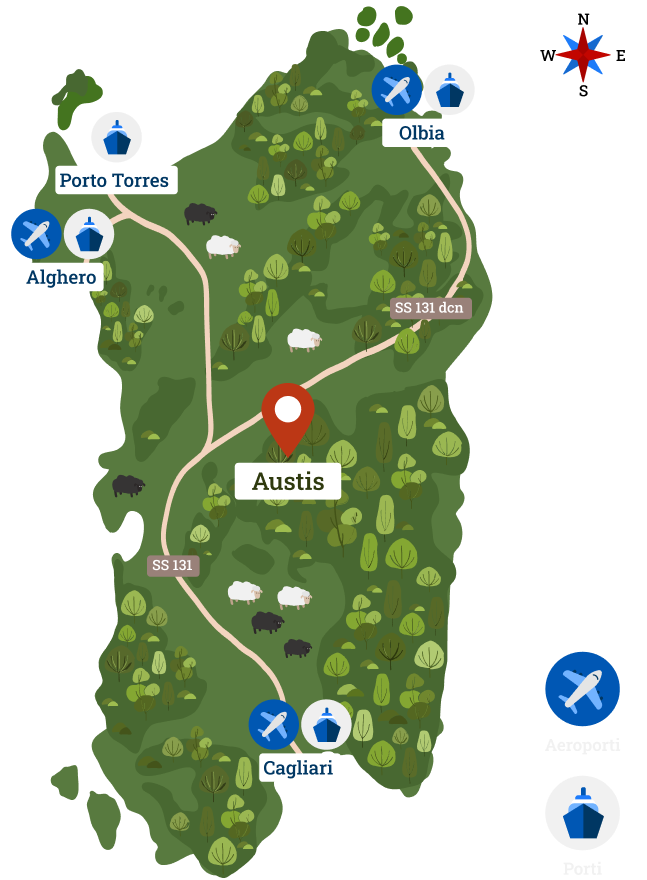 Come visit
Austis is located in the center of Sardinia about 90 minutes from the main airports and ports of the island.
The village is immersed in a beautiful area, where history is combined with archaic legends. Discover our traditions, genuine flavours, traditional clothes and our most beautiful monuments.
Come to Austis, natural Sardinia
Download map