Mandrolisai is one of central Sardinia's historic regions and is located between the Barbagia di Belvì and the Barbagia di Ollolai. The territory is characterized by gentle hills cultivated with vineyards and olive trees which give their best in autumn, when everything turns red. Among the towns that are part of it, Sorgono and Atzara, both about 10 kilometers away from Austis, are the most important historical areas. Atzara is a medieval village where you can breathe true Sardinian authenticity. Lose yourself in the streets of the historic center and discover its Aragonese walls and granite cornices. Sorgono is the village crossed by the green train, much loved by the writer D.H. Lawrence who wrote enthusiastically about it in his book "Sea and Sardinia". Here you can unravel between granite landscapes, good food and lots of archeology.
The Mandrolisai area is known above all for its prestigious food and wine products, from the Mandrolisai wine, a historic wine that uses the grapes of Bovale, to the Cannonau and Monica. This is a wine that in recent years has been experiencing great success, receiving national and international awards and prizes. But even the gastronomy here is not to be underestimated, as it  includes the famous nougat of Tonara, a small town that has become famous precisely for the production of artisan nougat, which is worked by hand according to techniques handed down for generations and with the use of excellent raw materials. Still speaking of gastronomy, it is impossible not to mention the municipality of Samugheo and its long tradition of bread-making and the bread to which a festival is also dedicated. The many types of traditional bread include Su Pistoccu, Su Tzichi and ceremonial breads such as S'Angulla and Sa Pramighedda.
For nature lovers, the Mandrolisai offers unique landscapes and unexpected encounters such as those that can be had at the Mui Muscas Park, the donkey park in Ortueri where about 50 Sardinian donkeys live in a sort of municipality surrounded by pines and cork oaks and where they are looked after and pampered by the inhabitants of Ortueri. In the area of ​​Sorgono, during a walk in the countryside, it is possible to see important historical remains such as the Menhir of Biru 'e Concas, dating back to about 5500 years ago, and the Domus de Janas in the localities of "Perdonigheddu", "Santu Luisu" and "Pard 'e Cresia". These are hypogean tombs that are part of the funerary culture of the protohistoric era of Sardinia. These three in particular are located close to the historic center of Sorgono and are easily accessible by anyone.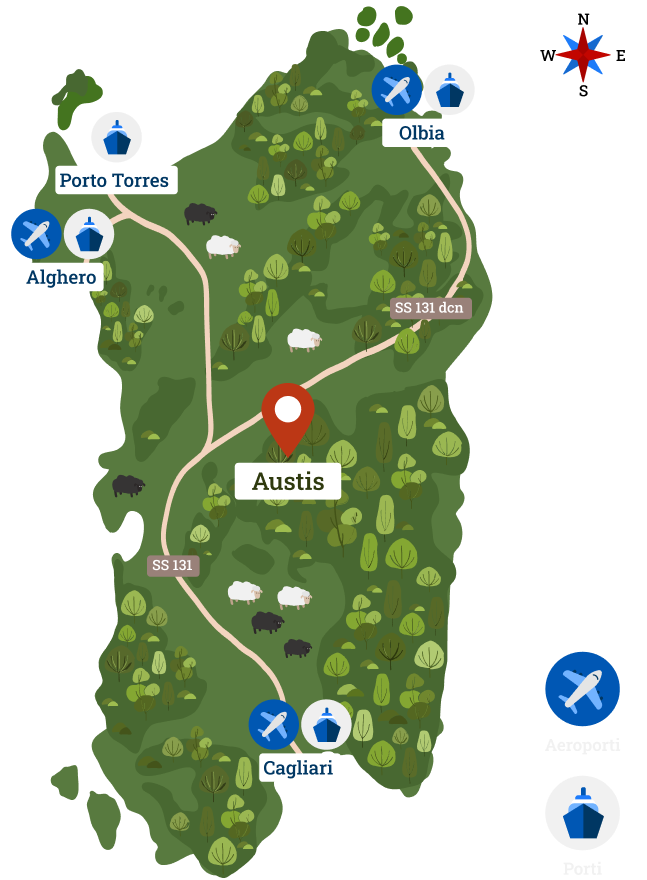 Come visit
Austis is located in the center of Sardinia about 90 minutes from the main airports and ports of the island.
The village is immersed in a beautiful area, where history is combined with archaic legends. Discover our traditions, genuine flavours, traditional clothes and our most beautiful monuments.
Come to Austis, natural Sardinia
Download map