Austis is in the center of the island so it is located about 150 kilometers from the main airports of Sardinia, which are in Olbia, Alghero and Cagliari, and more or less the same from the ports of Porto Torres, Olbia and Cagliari. The closest port is that of Arbatax which is about 100 kilometers away. As for public transport, Austis does not have a train station but is connected with ARST buses through 5 lines:
Line 502 which connects Fonni and Abbasanta,
line 504 which connects Meana Sardo and Nuoro,
line 512 which connects Fonni and Oristano,
line 9113 which connects Cagliari and Ovodda,
line 9127 which connects Nuoro and Sorgono.
However, given the scarcity of rides, our advice is to rely, when possible, on a personal vehicle or on the rental of a car to be able to reach Austis independently and explore the surroundings independently. The closest towns are Oristano and Nuoro which are both about 1 hour's drive from Austis. The journey from the cities of Cagliari, Olbia, Sassari and Alghero to our town takes about 2 hours.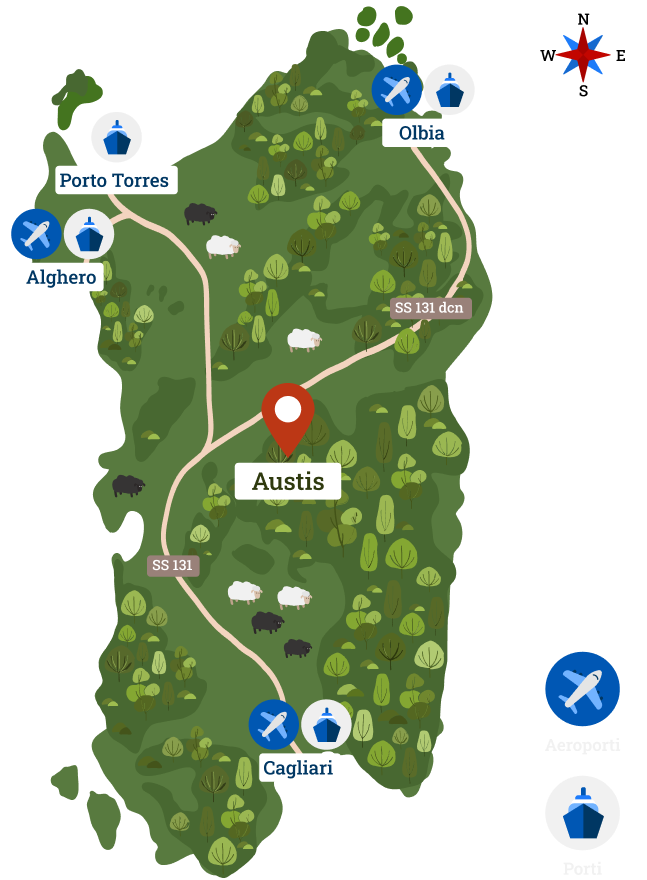 Come visit
Austis is located in the center of Sardinia about 90 minutes from the main airports and ports of the island.
The village is immersed in a beautiful area, where history is combined with archaic legends. Discover our traditions, genuine flavours, traditional clothes and our most beautiful monuments.
Come to Austis, natural Sardinia
Download map